FROM VISION TO REALITY
"Where there is no vision, the people perish," (KJV). Fremont Alliance Church began as the vision of a pastor from Bowling Green, Ohio. Rev. Carl S. Hallberg traveled through Fremont while going to Beulah Beach Camp near Vermilion, Ohio. He would travel U.S. Route 6 from B.G., through the heart of Fremont, to the Beach. Contacts were made, and the first service took place on December 19, 1931,
in the old Grace Lutheran Church building at the corner of Clover and Garrison Streets. Six people attended.
In 1933, the Central District superintendent appointed Rev. K.C. Fraser as the first official pastor. His ministry was marked with a gradual increase in Sunday school and worship services. The Young People's Society was organized. On April 9, 1934, the congregation organized with 21 members. They were:
Mr. & Mrs. McBeth Thompson
Mr. & Mrs. Charles Rafsnyder
Rev. Frazier resigned in March of 1935.
Rev. Harold Sechrist became the new pastor. He served until his departure to the mission field in July of 1937. The Ladies Missionary Prayer Band began under his ministry.
In August of 1937, Rev. W.S. Bamford began his ministry. In May of 1939, the congregation had to look for a new location as the old Grace Lutheran building was rented to the Calvary Gospel Tabernacle. For five months meetings and services were conducted in the homes of church members. In October, quarters were secured at 306 ½ Croghan Street on the second floor of this business building. Rev. Bamford resigned a short time later.
In January of 1940, the Central District superintendent appointed Rev. John E. Larkin as pastor. He had graduated from the Missionary Training Institute (now Nyack College) in Nyack, New York, in 1939. The congregation was limited by inadequate space. With a vision for the future, a building fund was started in February. In November of 1941, a more suitable location was secured at 312 East State Street. Pastor Larkin even found a wife in Fremont. He met Beula Moyer who was employed at the farm store of the Montgomery Ward Department Store on Front Street. The couple were married following the Christmas service in 1941. Rev. Warren Moyer, a Baptist pastor in Loami, Illinois, and father of the bride, officiated. The congregation officially incorporated with the state on February 19, 1944, as the Christian and Missionary Alliance Church of Fremont, Ohio

.
Rev. Larkin's ministry ended on September 17, 1944, with his acceptance of another pastorate in Michigan.
Rev. H.C. Stein became the pastor in November of 1944. In April of 1945, the East State Street location was leased to another party thus forcing the congregation to look for new quarters. Services were held at various locations: Stamm School auditorium, Hayes School auditorium, and Eastside Fire Station. Rev. Stein resigned in July of 1946. The congregation was permitted to use the city building at 4th

and Pine Streets in November of 1946.
A GROWING CHURCH…A NEW HOME
Rev. K.C. Buchanan accepted a call to become the pastor extended by the congregation in December of 1946. He began his ministry on January 1, 1947. In the course of six years the building fund had grown to $4,000. Shortly after he began his ministry, the decision was made to secure a more stable place to worship. In 1947, he designed the plans for a split-level church building. He had been a builder before he entered the ministry. On June 9, 1947, land was purchased at 6th

and Mulberry Streets. Ground was broken on September 7, 1947. After the erection of the steel trusses and basement walls, work was discontinued because winter had set in. Work resumed in the spring of 1948, but was slow due to a labor shortage.
The cornerstone was laid on Sunday, August 27, 1948, during a special service. Mr. Harry Hyde opened in prayer. Mr. John Lambright read the Scripture. Board secretary Mrs. Russel MacDonald read the congregation's history. Rev. Buchanan put the cornerstone in place.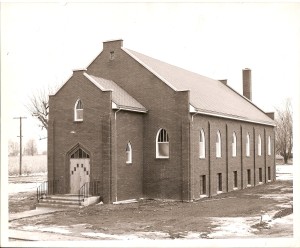 The membership list as of August 27, 1948, consisted of 58 members.
Exterior brick work was completed in 1948 before Christmas allowing inside work to begin. The congregation moved into one side of the basement and used the other side for classrooms on March 27, 1949. Steps to complete the building followed. Once completed, the sanctuary above the basement had 30 pews, 15 on each side of a center isle. Estimated cost of the structure and furnishings was about $36,000. The dedication service was conducted on Sunday, Dec. 10, 1950. Pastor Buchanan spoke at the 10:30 A.M. service. Central District Superintendent Rev. P.S. Allen was the speaker at the 2:30 P.M. dedication service. Allen delivered the message titled "Chief Cornerstone."
Donald Mumaugh of Lima, Ohio, played the xylophone. Rev. Fred Isch of Toledo played the piano. Rev. M.S. Fikes of Elyria, Ohio, served as song leader.
Pastor Buchanan resigned on July 28, 1951, to take a church in Flint, Michigan. Rev. Clyde Hunter accepted a call for ministry by the congregation on Oct. 14, 1951. He resigned on Sept. 26, 1954, to take a church in Bowling Green, Ohio.
Rev. Robert Collitt began his ministry on Dec. 12, 1954. He resigned on May 3, 1956. District superintendent Rev. Davis appointed Rev. Hallberg as interim pastor on May 4, 1956. He served until June 2, 1957.
Rev. Buchanan accepted the call to return to Fremont restarting his ministry on July 21, 1957. He put his construction skills to work once again overseeing the construction of a ranch style brick parsonage at 717 Mulberry Street, across the alley and behind the church building. The home was dedicated on March 6, 1959. Pastor Buchanan retired on June 28, 1959.
Rev. Clarence E. Hager accepted a call extended to him and began his ministry on July 1, 1959. He served until Feb. 2, 1964, to accept a pastorate in Nutley, New Jersey.
A SENDING CHURCH
Rev. Levoy H. Taylor began his ministry on March 22, 1964. He resigned on Dec. 22, 1968, to accept a pastorate in Jacksonville, Florida. Carol Frye (daughter of Mr. & Mrs. Charles Frye) of Clyde, Ohio, grew up in Fremont Alliance. She would answer God's call to become a missionary. She and her husband, Rev. Michael Welty, have been serving as missionaries to South America for many years. Rev. Welty is field director in Ecuador.
Rev. Robert Gaston began his ministry on April 18, 1969. Under his leadership, the congregation celebrated its 40th

anniversary in 1971. It was also during this anniversary celebration that a prayer covenant was made by the congregation to have God call someone out of Fremont Alliance into full-time ministry. Kit Kindred (son of Clyde and Donna Kindred) and Joan Keith (daughter of John and Molly Keith) were answers to prayer. They announced their intentions to marry and to go to S

t. Paul Bible College (now Crown College) in Minnesota to prepare for ministry. Rev. & Mrs. Kit Kindred have served in Alliance churches in Michigan, Ohio, and Pennsylvania.
A mortgage burning ceremony was conducted on Dec. 10, 1972 with the West Central District superintendent Rev. David N. Clark speaking in the 10:30 A.M. service. A $17,000 mortgage with the Croghan Colonial Bank was taken out on Oct. 1, 1958 at a 5.5% interest rate with monthly payments of $140. It was paid off on Sept. 25, 1972.
AN EXPANDING CHURCH
The Oak Harbor Alliance Chapel was the result of another prayer covenant between Pastor Gaston and Rev. Curtis Heritage of the Genoa, Ohio, Alliance Chapel. The C&MA had a growth plan in 1973 called "Key 73." It was an attempt to plant new churches. Both Genoa Alliance and Fremont Alliance had families in the Oak Harbor area. Mrs. Mary Clark of Oak Harbor had contacted the West Central District superintendent Rev. C. David Clark in Toledo. Pastor Gaston reported to Rev. Clark the prayer covenant that he and Pastor Heritage had. Rev. Clark instructed Pastor Gaston to "spy out the land" regarding the possibility of an Alliance work in Oak Harbor. Pastor Gaston spoke with Mrs. Clark of Oak Harbor and the Peterson family of Fremont Alliance.
Pastor Gaston conducted a Bible study in Oak Harbor for several months. The Oak Harbor group decided to rent the Grange Hall and conduct services. "Captain" Gardner, the district's extension director and pastor of Findlay Alliance, initiated the start-up of this church plant. Property was eventually purchased along state route 105 west of the village outside the corporation limit. Westgate Chapel (C&MA) of Toledo sent work teams that helped to build the original facility.
During Pastor Gaston's ministry, 19 new families became a part of Fremont Alliance. He resigned on April 26, 1976. Rev. Gene Graves became the next pastor on June 7, 1976. He resigned on Nov. 9, 1978.
On Dec. 18, 1978, the Governing Board unanimously voted to call Rev. James L. Braden to become the next pastor. Tom Sefik came on staff in October of 1980 as the youth pastor. Four bylaw revisions were made in 1980 with congregational approval. One stated that church discipline would be conducted by the elders and not the executive committee. The second change was to the composition of the executive committee. The bylaw would read:
"The Executive Committee will include the pastor(s), recording secretary, financial secretary, treasurer, missionary treasurer, Sunday school superintendent, the chairperson of the trustees, chairman of the deacons, and elders." The third was to change the limit of two elders and two deacons "to one elder and deacon for each 15 active members." The fourth change was to take quorum in congregational meetings from 20 members needed to conduct business to "50% of the church membership."
In 1982, Mr. Sefik completed his two years of home service allowing him to go to the mission field.
Ray Justis became the assistant pastor for youth ministry in 1983. A bylaw change was recommended and approved by the congregation that same year. The Executive Committee became the Governing Board. The new bylaw approved read:
"The Governing Board shall consist of pastor(s), elders, chairman of the deacons, chairman of the trustees, treasurer, Sunday school superintendent, and recording secretary."
Under Braden's ministry, the congregation experienced numerical growth and the challenge to develop a plan to accommodate the growing congregation. Pastor Justis concluded his ministry at the end of 1984. Rev. Braden resigned on April 15, 1985, concluding his ministry in Fremont on July 1, 1985. The congregation held a farewell reception at the YMCA.
Rev. Richard Tompkins, a retired missionary to Thailand, accepted a call to become pastor. He began his ministry on July 3, 1985. It was also during this year that the Christian education committee began with Sunday School Superintendent Kathy MacDonald serving as its chairperson. With a growing Christian education ministry, the position of Christian Education Director was created. Mrs. Pat Suter became the first C.E. Director serving 1986 – 1987. This position became a Governing Board position replacing the Sunday school superintendent on the Board.
A DIFFICULT DECISION
During the years of Rev. Tompkins' ministry, the congregation made several important decisions. A building fund had been collecting money for a number of years. On Sunday, Sept. 14, 1986, the members voted 80% for a relocation plan as opposed to building on to the facility. With the addition of new people to the congregation, some attempted to persuade the membership at their annual meeting on Dec. 16, 1987, to renovate rather than relocate.
Recording secretary William Wilson, III, noted this in the minutes. Pastor Tompkins shared that Board members were concerned that giving to the building fund was decreasing. Church member Rev. Ian Crawshaw stated that he believed this to be so because
"the church has mandated to relocate and the Board and the elders have failed because they have not acted on the church's decision."
In January of 1988, Pastor Tompkins would write to the members:
"I have listened to every conceivable alternative and have no desire to lead the church in any direction other than relocation. Therefore, I am asking this congregation to rally together and support the Governing Board in its attempts to relocate. Now, at the outset of 1988, I feel that it is time for us to quit wavering and to set the course of action and move forward. Formerly, I have refrained from taking a definite position . . . Possibly my indecision has added to the confusion of the present impasse . . . I feel that the vote of Sept. 14, 1986, was conclusive with 80% voting to relocate."
A Search Committee was created by the Governing Board to locate suitable property. The Committee consisted of Mr. Virgil "Hank" Miller (chairman), Pastor Tompkins, John Keith, Sr., Rev. Ian Crawshaw, Mrs. Pat Suter, Mr. Troy Smith, and Dr. Mark Emly.
FINDING A NEW HOME
The Search Committee located a parcel of land consisting of 4.46 acres along Brush Street near Otis School. Though not originally for sale, Lamar Baker, a member of the church and 3rd grade teacher at Otis, was discussing the land search with principal Mr. John Brown. Mr. Brown discussed talking with Mr. & Mrs. Walter Spieldenner who had sold land to the Fremont City Schools in the 1960s for the construction of Otis School. Mr. Brown gave their phone number to Mr. Baker who then gave it to Mrs. Suter. Mrs. Suter made the initial contact with Mrs. Spieldenner who said it was always her desire to look out her picture window and see a church. The Committee made an appointment to meet them. This lead to a recommendation to buy.
On June 16, 1988, Rev. Tompkins sent a letter to members. He wrote:
"On Sunday, June 26th, you are going to be given the opportunity to vote on the proposal to purchase property for a building site. This parcel of land, on Brush Street, is adequate for our purposes and the enclosed paper, "FORWARD," gives pertinent information from our Governing Board . . . It is the hope of the Governing Board for a strong affirmative vote, ending over two years of frustrations uniting the congregation in purpose and determination. As pastor, I urge each of you to be present to cast your ballot. Once again this congregation is on the threshold of a new and enlarged ministry. Let us move forward! "Enlarge the place of your tent, stretch your tent curtains wide, do not hold back; lengthen your cords, strengthen your stakes," (Isaiah 54:2)."
During a special congregational meeting on June 26, 1988, the members voted to approve the purchase of land. This vote also reaffirmed the decision to relocate. The Governing Board then formed a Land Purchase Committee to oversee this transaction. The Committee consisted of Dr. Mark Emly (chairman), Mrs. Pat Suter, Mr. Hank Miller, and Mr. Larry Kille. Rev. Tompkins did not see the completion of the land purchase as he resigned his pastorate and concluded his Fremont ministry on Sept. 30, 1988. He accepted a call to go on staff with the Alliance church in Toccoa Falls, Georgia. The congregation acquired the Brush Street property in December of 1988.
"ARISE AND BUILD"
In December of 1988, Rev. Kirt Schneider, a Jewish Christian, was extended a call by the Governing Board to become the next pastor. He was pastoring two small Alliance congregations in Pennsylvania. He began his ministry in Fremont in January, 1989. Under his ministry the congregation moved forward with its relocation plans. A stewardship program "Arise and Build" was put together. In his annual report for 1989, Treasurer Mark Emily reported the completion of the land purchase on Brush Street.
The Melvin Felty Architects of Mansfield, Ohio, were hired to make blueprints for the new facility. A Building Committee was formed by the Governing Board to oversee the planning, contracting, and construction. The Committee consisted of Dr. Mark Emly (chairman), Rev. Schneider, Mr. Todd Fowler, Mrs. Ruth Miller, Mr. Keith Kolkemeyer, and Mr. Troy Smith.
At a congregational meeting on Jan. 12, 1990, it was reported that the building fund had $61,000, but still needed $250,000. The vote to allow the Governing Board to seek financing was approved 40 "yes" and one "no". The next vote to proceed with the building program was 41 "yes" and 0 "no".
A stewardship promotion booklet stated that architectural drawings would cost $30,000 and the finished facility $400,000.
An "I Love My Church" banquet was held on Sunday, Feb. 12, 1990, 6 P.M. at the Green Hills Golf Club in Clyde with 125 attending. The goal was to raise $250,000 under the motto "Not Equal Gifts, But Equal Sacrifice." The stewardship program raised $190,000 in pledges over three years. A loan from the Alliance Development Fund for $270,000 was secured.
A groundbreaking ceremony was conducted on May 15, 1990. The Governing Board hired Troy Smith and Keith Kolkemeyer to serve as general contractors. Various contractors were hired. Much of the interior work of painting and hanging doors, etc. was performed by the congregation. The youth group worked several Wednesday nights to help clean the concrete floor before carpeting was installed.
The congregation approved the sale of the 6th & Mulberry facility to the Greater St. James Holiness Church of God in Christ on Bidwell Avenue for $85,000. The Greater St. James leadership allowed the Fremont Alliance congregation six months, rent free, to remain in the facility until the new one was completed. This was done in exchange for taking a lower selling price. A grant from the Olde Little Church Foundation of Houston, Texas, provided $2,700 for partial paving of the parking lot. The building was completed in October of 1990. The first service was conducted on Sunday, Oct. 21, 1990.
On Nov. 4, 1990, the Governing Board relieved Pastor Schneider of his pastoral duties due to personal problems. On Nov. 14, 1990, Rev. Schneider was dismissed as pastor in consultation with the district superintendent Rev. Dahl Seckinger. Rev. John Larkin, retired and living at Beulah Beach, served as interim pastor through 1990.
The dedication for the new facility was conducted on Sunday, Dec. 2, 1990, at 2:00 P.M. with 265 in attendance. Rev. Ian Crawshaw, an Alliance evangelist and church member, served as song leader. Church elders Mr. Hank Miller and Mr. Denny Suter coordinated the order of service. C&MA president Dr. David Rambo delivered the message. Rev. Dahl Seckinger brought the invocation and Scripture reading. Two Sandusky Township trustees attended as invited guests. (The property is now in the city but originally was in Sandusky Township before annexation.) Lamar Baker shared a devotional thought from 1 Thessalonians 5:12-24. He then led the congregation in a song. Elder Hank Miller chaired the meeting. Thirty-six members were present.
Rev. Ian Crawshaw served as interim pastor for January of 1991. Under his ministry, the elders received 10 new members.
AN EXPANDING VISION
On March 13, 1991, the Governing Board unanimously voted to extend a call to Rev. Clarence E. Hager as pastor. He returned to Fremont to begin ministry on April 28, 1991. This was also the year the congregation celebrated their 60th anniversary. Former pastor Rev. Gaston was the speaker at a banquet conducted in Dec.
In his annual report for 1991, Pastor Hager wrote:
"Presently we are able only to provide comfortably for 100 person in our fellowship hall – the overflow area of our sanctuary. This space area is a NEED we must give ourselves to in short range plans. Your Long-Ranged Plan Committee has addressed this, however."
(Pastor Hager was referring to the original plans noted in the phase 2 of the master plan.) 44 members were present for the annual meeting.
A victory banquet for the stewardship program was conducted on March 8, 1992, at the Ole Zim's Restaurant on state route 590. Plans were also shared for the construction of a gym/multipurpose addition on the north side of the building. The congregation approved. A groundbreaking ceremony was conducted on Sept. 20, 1992, at 11:30 A.M. with an attendance of 148. An additional loan of $139,996 was secured from the Alliance Development Fund. In his annual report, Treasurer John Keith, Jr., reported that the monthly ADF loan payment was $3,184 with the interest rate being 10.25%. The loan balance as of Dec. 31, 1992 was $357,190.
In Pastor Hager's 1992 annual report he wrote:
"The new multi-purpose building has consumed many hours of my time. My sincere appreciation to Keith Kolkemeyer and Troy Smith for their untiring efforts and expertise in supervising the building of the fellowship hall, gym, and classrooms. The Victory Banquet in March of 1992 signaled the support and concern for this step forward of facilities to adequately care for an ongoing ministry. Thank you for the added $16,000 a year pledged for support of the multi-purpose facility."
In his 1993 annual report, Rev. Hager reported 15 new members, 8 conversions, 8 baptisms, and 13 new believers were discipled. A Resurrection Celebration weekend was conducted. It consisted of a Good Friday service on April 9th with the sanctuary choir under the direction of Mr. Ken Hahn, and the drama ministry under the direction of Mrs. Joy Biehler, performing "No Greater Love" at 7 P.M. to an audience of 406. The Alliance Men hosted a men's resurrection breakfast on Sat., April 10, with 254 in attendance. Easter Sunday had 235 in worship. The second performance of "No Greater Love" that evening had 239 in attendance. Dr. Nathan Meyer conducted five prophecy meetings and Dr. Bill Weston conducted evangelistic services.
In his 1994 annual report, Rev. Hager reported 28 new members received, 21 conversions, and 3 baptisms. The congregation welcomed Steven and Christy Hagen, both graduates of Moody Bible Institute in Chicago. Steve became the full-time youth pastor and Christy became the choir director. The children's Bible club ministry known as "Joy Club" relocated to Fremont Alliance. It was a ministry of the Collinwood Baptist Church which had voted to disband in Dec. of 1993. The ministry and its staff began meeting on Wednesday nights and were allotted their own budget money within the Christian Education budget.
Pastor Hager announced his retirement on Dec. 31, 1995, and concluded his ministry on Sunday, Jan. 7, 1996.
EXPANDING MINISTRIES
Serving as worship leader, Pastor Hagen organized a worship team in the spring of 1996. More instruments and vocalists were added. The Governing Board voted to extend a call to Rev. Paul Miller of Dover, Illinois, in the summer to become senior pastor. Dr. Nathan Meyer conducted five prophecy meetings which averaged 178. Steve Hagen was ordained in a special service on Sunday, Dec. 1, 1996, at 6 P.M.
The Joy Club ministry ended after the spring of 1997. Many of the 80 children the club had ministered to at Collinwood either walked to the club or were picked up by church vans. Transportation to Fremont Alliance relied heavily on volunteer drivers. There were never enough drivers. This was compounded with staff shortages. With the resignation of numerous staff, including the club's director Mrs. Jan Demmy, the club finished its spring session. In his report to the congregation, Christian education director Dale Ewing reported:
"Kid's club has gone through a transitional year. We have been exploring new programs while adding a few different things to the current program."
The use of a worship team and other musical instruments besides the organ and piano caused disagreement among some in the congregation. Rev. Hagen would write in his annual report,
"I never intended to upset or offend anyone . . . Our worship to God should never become an area of battle. And most unfortunately for some, it has. I believe that we have yet to "touch the hem of Christ's robe" and experience His great glory in a worship service . . . As it was recently declared to us so eloquently by out District Superintendent, Dr. Wiggins, we were created to worship God."
The issue of worship style would consume many meetings of the church elders who would coin the affair as the "worship wars."
In 1998 the prayer partner ministry was launched. Individuals met to pray before Sunday school and during the sermon portion of the morning service. The congregation hosted the district prayer conference in Sept. The AWANA Club ministry began in the fall under the leadership of Harry and Gepka Wilson. The club began meeting on Wednesday nights from 6:30 – 8 P.M.
Care groups began on Feb. 5, 1999. These were the forerunners to home Bible studies which are now conducted on Sunday evenings. The Easter drama ministry was begun again under the direction of the pastor's wife, Mrs. Donna Miller. "No Greater Love" was presented on Good Friday, April 12, at 7 P.M. to an audience of 268. Rev. Hagen concluded his ministry on June 27, to become the pastor of the Sylvania, Ohio, Alliance Church. A "town meeting" on worship was conducted on Sunday, July 25, at 6 P.M. with 80 in attendance. District superintendent Dr. Donald Wiggins conducted the meeting at the request of the elders. On Oct. 16, Rob Chagdes of Chicago became the new youth pastor. Under his ministry, the youth group developed a stronger identity. Numerous young people became student leaders and some joined the worship team.
In 2000, 43 salvation decisions were recorded. Layman Mr. William "Bill" Ireland, was appointed by the Governing Board and affirmed by the congregation to become the pastor of visitation. Along with his wife Ann and many volunteers, a coordinated effort was launched to visit the sick, the shut-ins, visitors, and those in the hospital. The Easter drama "No Greater Love" was expanded to two performances. Palm Sunday, April 16, had 277 in attendance. Good Friday, April 21, had 364. The Easter worship service had 299 in attendance and had six go to altar to pray to receive Christ as Savior. Home Bible studies began on Sunday, Oct. 8th, meeting on the 2nd and 4th Sundays. Pastor Chagdes resigned to become a youth pastor at a Nazarene church near Chicago. He concluded his ministry on Dec. 13, 2000. The year 2001 witnessed the church's 70th anniversary. The Easter drama was re-titled "The Cross of Love." Palm Sunday, April 8, attendance was 418. The April 13 Good Friday attendance was 437.
Scott Uhlinger began his ministry as youth pastor on July 26. Charles and Marcia Custer took over command of the AWANA Club in Sept. At the annual meeting conducted on Dec. 15, 2001, members approved 15 bylaw changes to bring them into compliance with General Council actions pertaining to "elder authority." Three passed with a 92% affirmative vote, 11 passed with a 98% majority, and one passed by 100% approval.
In 2002 the expansion of the worship team continued under the leadership of Mr. Steven Lamale. New singers and instruments were added. The emphasis on home Bible studies continued with Pastor Miller's group "birthing" a new group at Mike and Mary Cay Reed's home near Hessville. The Easter drama "The Cross of Love" recorded attendances of 357 on Palm Sunday, March 24, and 489 on Good Friday, March 29. Easter Sunday had 321 in attendance. The elders received 26 new members in 2002.
Youth pastor Uhlinger resigned March 11, 2003, expressing a desire to pursue more college classes to become a junior high teacher. He concluded his ministry in late March.
A pastoral housing committee was formed by the Governing Board in 2003 to consider the option of selling the parsonage versus keeping it. The committee consisted of Mrs. Lavin Silcox (chairperson), Mr. Charles Palmer, Mr. Barry Covert, Mr. Michael Reed, and Pastor Miller. The committee submitted their recommendation to sell the parsonage to the Board on August 12, 2003. The Board unanimously agreed. A special congregational meeting was conducted on August 17, 2003. The recommendation from the Board was to authorize the sale of the parsonage and to give the senior pastor a "housing allowance." An unofficial appraisal by a local realtor recommended listing the house for $128,000. The vote was 75 "yes" and 2 "no." It was noted to the members that a "gentlemen's agreement" was made with Greater St. James Church to notify them first when the parsonage would be sold. They had originally wanted to purchase it along with the former church building.
The Board made Elders Charles Palmer and Denny Suter representatives on behalf of Fremont Alliance to negotiate with St. James. On Oct. 29, 2003, St. James offered $125,000 for the parsonage. The Board accepted.
ON THE VERGE OF A GREATER MIRACLE
In his 2003 annual report Pastor Miller wrote:
"I believe that the Lord has brought each of us together in this church ministry by design. There is a sovereign mix of spiritual gifts that only God Himself could have arranged for a purpose that goes beyond us. You and I are in this particular church at this particular time because our Lord of infinite wisdom could see all that could potentially glorify Him . . . I believe we are on the verge of a greater miracle of God's work in the year ahead. Besides the significant fruit we are already seeing through the various ministries in our church, I believe God has much more to accomplish through us . . ."
On January 10, 2004, lay pastor William G. Ireland passed away at his home. His memorial service was held on Jan. 13 with Rev. Paul Miller officiating.
Treasurer Lavin Silcox reported in her March 9 monthly report that the transaction from the sale of the parsonage was completed. From the $125,000 sale
Northgate Community Church, a C&MA church plant in northern Toledo, received $5,000 as a love gift. $80,000 was put down on the mortgage with Croghan Colonial Bank and a $500 fee was paid to amend the original mortgage at a lower interest rate without having to refinance the loan. The balance from the sale was put into savings.
Rev. Glenn Merrill, II came on staff as the assistant pastor for youth ministry in mid-October of 2004. Joining him was his wife and three sons. Prior to coming to Fremont, he served as a senior pastor of an Alliance church in North Carolina.
In the fall of 2004, the Governing Board conducted master planning sessions with Rev. Jonathan Wiggins, assistant district superintendent. They also formed an architect search committee to recommend a firm to design the next building phase. Mr. Troy Smith was selected as chairman. Committee members included Mr. Barry Covert, Mr. Dale Ewing, Mr. Guy Nuhfer, and Mr. Jim Weaver.
On January 16, 2005, a "Master Planning Sunday" was held during the morning worship service at 10:30 A.M. During the service, Rev. Jonathan Wiggins delivered the biblical admonition. The three dimensions of the ministry were addressed. Rev. Merrill spoke on our ministry accomplishments and future needs. Elders Chet Schaeffer spoke on additional staff needs as the ministry grows, and Lamar Baker spoke on the facility.
On March 13, 2005, the Governing Board accepted the bid from the Doug Henry Excavating to expand the parking lot by graveling an addition for 45 cars at $11,922 to be paid in three equal installments. The first payment up front. The second in the middle of the project, and the third upon completion.
A special congregational meeting was conducted on Sunday, Oct. 30 to consider the recommendation of the architect search committee. Troy Smith shared the merits of the design/build firm Janotta and Herner of Monroeville, Ohio. The members voted 65 "yes" and 5 "no" to secure this firm to design concept drawings for the next building phase for a retainer fee of $5,000.
Due to the size of the membership, five elders were elected at the annual meeting conducted on Saturday, Dec. 17, 2005. With the two elders not up for election, this gave the congregation seven elders in 2006. Pastor Miller reported 10 baptisms and 14 new members received in 2005.
The Elders conducted planning meetings from January to March with various ministry leaders for the launch of two services to begin April 2, 2006. The new Sunday morning schedule adopted:
First Service 8:00 – 9:15
Sunday School 9:30 – 10:25
Second Service 10:45 – 12:00
A mortgage burning service was conducted May 21, 2006 during both services. Rev. Jeff Brown brought the biblical admonition. Mr. Joel Copley from Janotta and Herner presented a power point presentation on the recommended addition. It was announced that the building fund was restarted. Troy Smith had the honor of burning the mortgage. He was joined by members of the former "Arise and Build" Stewardship Committee. Of the original seven members, five were still with the congregation: Lamar Baker, Joy Biehler, Arlene Scherf, Denny Suter, and Ruth Walters. Church members who were part of the congregation at its former site were also invited to the platform.
In April, 2016, the congregation voted 90-0 to move forward with the building of a Christian Education/Family addition to the facility. Work is expected to be completed by late autumn, early winter 2016.
CONTINUING THE VISION
It has been the prayer of many that God would call some of our young people into full-time Christian service. Answers to these prayers include:
Rev. Paul W. Wilson, D. Min (son of Harry & Gepka Wilson), a graduate of Moody Bible Institute & Southern Seminary (Louisville, KY), who accepted the call to pastor the Hopewell Alliance Church in Aliquippa, Pennsylvania in Aug., 2006. He is currently serving at Calvary Baptist Church in Easton, PA as Lead Pastor.
Zak Ranes (son of Daniel & Cheryl Ranes and grandson of Arlene Miller), a graduate of Trinity Bible College in Florida and previous youth pastor at Bethel United Brethren Church on state route 590 near Elmore. He is currently the Coordinator of Program Effectiveness at the University of South Florida.
Timothy Miller (son of Rev. Paul & Donna Miller), a 2007 graduate of Indiana Wesleyan University near Marion, Indiana, and currently serves as Assistant Pastor at the Chinese Alliance Church in Toledo, Ohio.
Thank You to Lamar Baker for this contribution.